Whether you have a grand dining room or just a little nook in the corner of your kitchen, everyone deserves to feel welcome and cosy during mealtimes. Now, you could have the most exquisitely expensive furniture in the world, but if your dining space doesn't have a few accessories, furnishings and embellishments here and there, it's not going to be welcoming or comfortable for anyone, least of all you. Here are 10 easy ways to up the warmth of your space…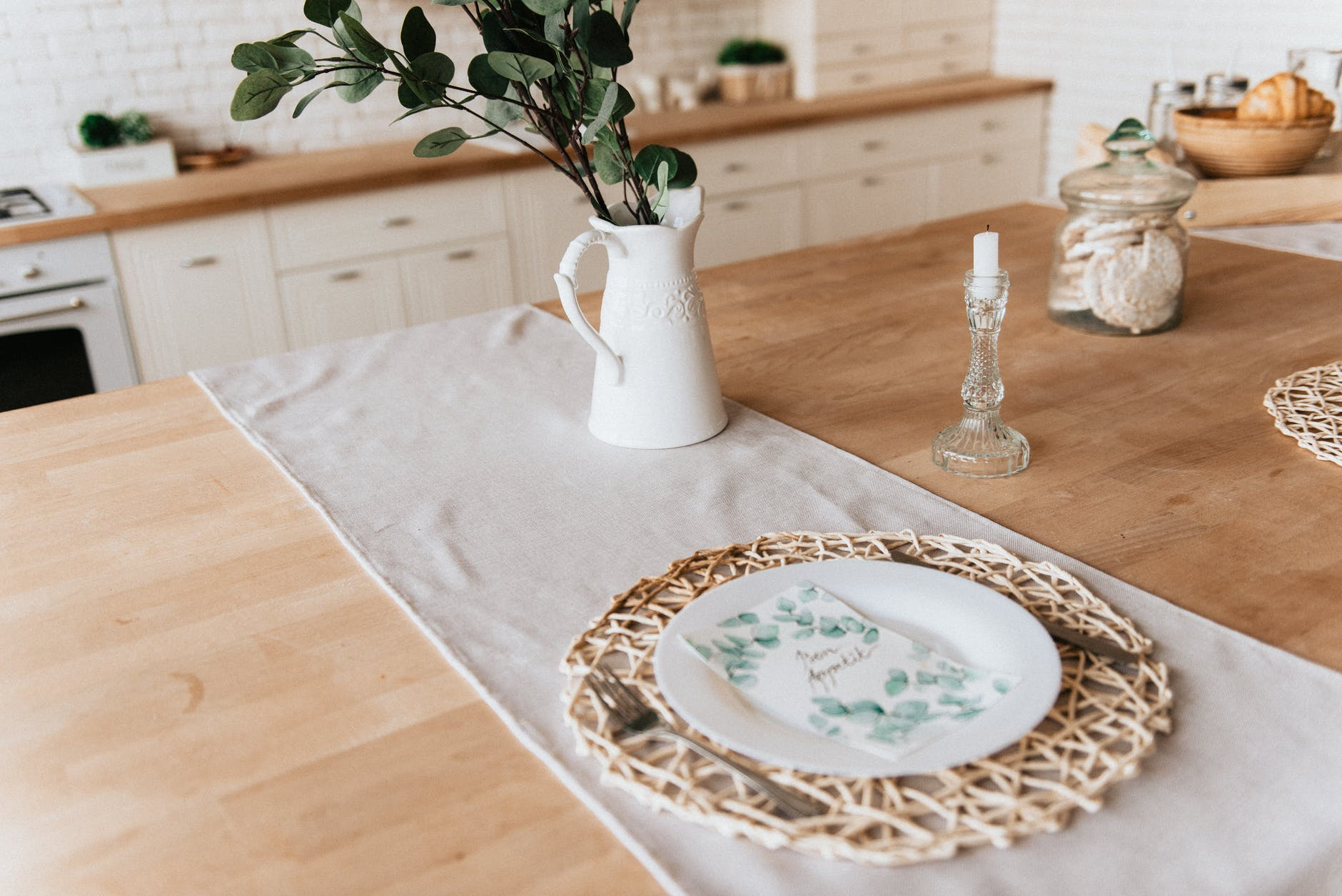 Candles
Candles are such an inexpensive, easy way to set the mood in every room of your home. Adding a few varied soy wax candles here and there will immediately bring some ambience and comfort to even the slickest of dining spaces.
Throw Pillows and Blankets
A couple of accent pillows placed on your dining chairs and a chunky knit blanket strewn over the back of one will immediately make your space feel more welcoming. This is particularly effective and stylish in boho or rustic homes that use timber dining chairs around their table.
Plants and Flowers
Bringing the outdoors in is one of the biggest interior obsessions right now, and you can absolutely use that trend in your dining room. Create a lush, jungle atmosphere, dot a few succulents around the place or just add an elegant orchid to the centre of your dining table – whatever suits your style.
A Table Runner or Tablecloth
This is such a classic! Table runners are fantastic for adding an extra something to a dining table without completely covering it up, whilst tablecloths really pack a punch and can bring an entirely new tone to a room. Classic, country and French Provincial homes look amazing with either a cloth or a runner at the table.
Chalkboard Art
This is a fun one that's perfect for keeping small diners entertained during mealtimes! Popping a little chalkboard in the corner of your dining area looks charming and very wholesome indeed – plus, it's always good to get creative, no matter how old you are.
Add a Statement Rug
Rugs will bring any room together, no matter the style! Now, keep in mind that you will be positioning it underneath a surface that you're eating on, meaning dark colours or stain-resistant textiles are going to be safest.
Use Accent Colours
Introducing a new colour to your room is a great way of adding a subtle personal touch without overpowering the space or making it feel kitsch. This can be as gentle or as strong as you like, seafoam blue, navy, dusty pink or mint would all work beautifully with any neutral space. If you prefer bolder tones, try a bright red or a pop of neon orange.
Bring in Storage
Nobody feels at ease in an overly messy or cluttered home. Investing in a few pieces of storage savvy furniture will keep the dining area nice and clear. Look at buffets, cabinets, display units or even storage smart dining tables in Sydney for some great multifunctional finds.
Use Alternate Light Sources
One stark light bulb right above you isn't necessarily the best way to set a cosy mood during meal times. Instead, try using a couple of lamps (alongside your candles) for a far comfier dining experience.
Think About the Floorplan
Lastly, take a look at your floorplan (if you don't have one you can just do a rough sketch of where everything is positioned from a bird's eye view). Is there any way you can rearrange your furniture to make it feel more inviting or open? When a room feels really off, it often needs a bit of a reposition to freshen it up.
Follow these easy tips for a welcoming, warm dining room!