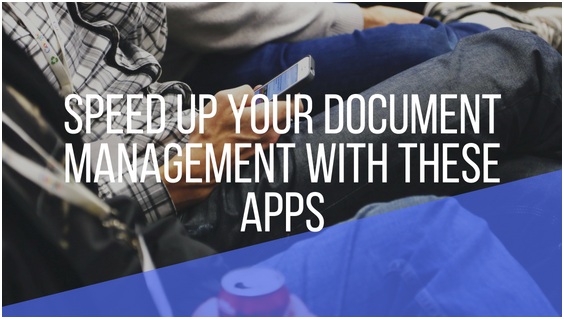 Mobile apps have become the daily drivers of our work productivity. Not only can  mobile apps help you complete your everyday tasks more easily, but they can also enable you to finish your work while out of office. When you are one tap away from finding out important information, sending a contract over email or making small changes to a resume, no one is willing to wait to get to the office to do the same thing on his computer.
In fast-paced work environment of today, you would need to have good apps at your disposal. Although there are various apps that can perform the same task, some of them are essential because of their reliability, functionality or ability to synchronize with desktop and online apps. For whatever the reason you are using them or type of work you're in, you might find some of these apps very useful.
Cloud storage apps
The cloud storage apps are useful for more than a few reasons. They are great places to store your documents non-physically. Once they are stored online, you can access them almost instantly from any place and any device. You can store one document from your mobile phone and it will be available for you to use on desktop computer as well.
There are many cloud storages available like OneDrive, Dropbox, Box, iCloud, etc. They are all good, but Google Drive is among the best because it allows you to store and create new documents as well. On the top of that, it can be used completely free with limited storage. Google Drive is divided into several apps like Google Docs, Google Sheets and Google Slides, but the good news is that most of these apps come pre-installed on most Android phones. You can use these apps to open and edit various documents directly on your phone. You can also share documents with your coworkers and in that way, it can be used as a collaboration tool as well.
PDF converter apps
With digitization, the process of converting text, pictures, or sound into a digital form that can be processed by a computer, now there are more digital than paper documents. And most of these documents come in PDF format, that is very lightweight, secure, and portable to any device. Most of your work documents, reports, invoices, and contracts probably come in PDF.
But, a common thing for all PDFs is that its content cannot be edited easy way, at least not without proper tools. You can't reuse old documents or you can't make quick changes to a document. That is why every person working with digital documents should have one PDF converter app because it allows you to convert PDF into editable documents. The PDF to Word Converter app, available for iOS & Android, converts PDF to editable Word documents for free on your mobile device. Once the file is converted you can make changes to the file and get your work done from your phone.
There are various types of converters. For instance, business-oriented users who work a lot with PDF tables can use PDF to Excel converter to extract data from PDF directly to Excel spreadsheet.
Document Scanning apps
A must-have app for document management is a good scanner app for your mobile phone. You can remove piles of papers from your work desk and office, by simply scanning them with your phone. Not only do you remove paper clutter from your life, but you also make those documents always available for use because you can access them from your phone at any time. The apps like Scanbot can help you with document management, by scanning documents on the go. With just a snap, those documents can be easily shared over email or cloud storage. Adding digital signatures is also available with this app, but it is a premium option only.
You can also rename your scanned documents and put them in folders, so Scanbot can be used as a good document management app as well. When you want to find your resume in English, just type these words and the document will show up. If you need to make small changes before sending the document to an employer, open it with PDF to Word to edit the resume. If you run low on space, upload it to Google Drive, etc.
Knowing about right apps and knowing how to utilize them to manage documents may save you a lot of time and keep you more productive.