Raksha Bandhan itself portrays the strong relationship of brother and sister. No occasion captures the essence of this relationship like Raksha Bandhan. It is a festival that is commemorated every year to applaud the special bond of brother and sister. It is the day when the sisters tie a  Rakhi(holy thread) on the wrist of their brothers. In return, brothers pledge to shield their sisters from all the negativity. Gifts are also exchanged to acknowledge the love and affection of this relationship. There is no doubt that you love your brother, unconditionally. Obviously, you may be searching for some wonderful gifts that can fit the title of Bhai No.1. Here are the top 10 tech-related gift ideas that will help you to convey your sibling that he is the No.1 brother in the world.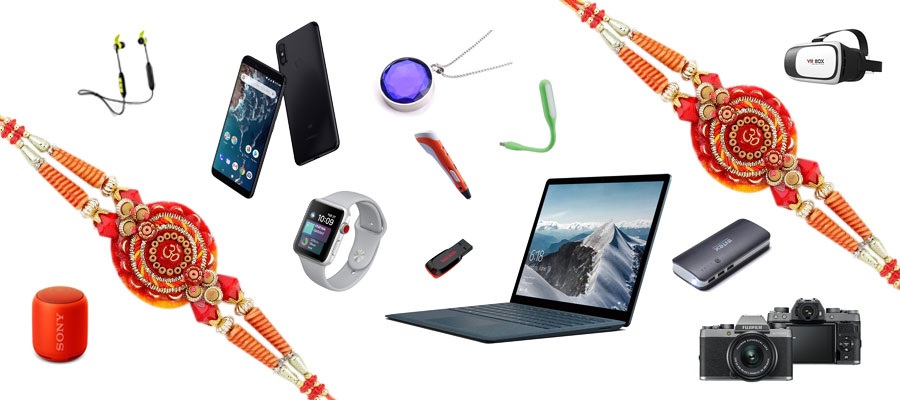 GPS Tracking Navigation Device
Boys often feel shy from asking for help during driving. If your brother is a shy kind person and he travels a lot either for the purpose of enjoyment or for business tours, GPS tracking navigation device would be the best gift for him. This Raksha Bandhan, send rakhi online along with a GPS tracking navigation device. By gifting this, you are actually admiring his passion for gadgets.
Wireless Noise Cancelling Headphones
This is the perfect device to eliminate the frustration caused by an obstruction in the office or when you are encircled by rowdy kids. Wireless noise canceling headphones will allow him to work smoothly in the office and enjoy the free time perfectly. Gift it to your brother as a token of love and care.
Smartphones
Smartphones have become an important piece of technology that brings almost everything within our reach. Therefore, you can present a latest launched smartphone to your brother this Raksha Bandhan as a token of your love, care, and affection. You can even set a wallpaper having the text Bhai No.1. Isn't it a great gift for your techie brother? Indeed, he will like this gift very much.
Power Bank
A power bank is a handy item when you have to travel frequently. Nowadays, the power bank has become a must-have product. Make your brother feel extraordinary by presenting him a power bank as a Rakhi gift. Now, your brother doesn't have to run out of battery because he will be having a power bank. All you need to know is the popular products in this category like Adcom power bank, OnePlus power bank, and many more.
Fitness Tracker
Usually, boys are concerned about their fitness. So, if you are planning to present something related to it, then fitness tracker would be the right option for you. In the current scenario, fitness trackers have become an essential part of our lives because of the busy schedule. Say " I Care You A lot" by gifting a fitness tracker to your dear brother. Undoubtedly, it would be the best Rakhi gifts for your Bhai No.1.
E-Readers
If your brother is a bookworm, then, believe it or not, E-Reader would be the best gift for him. Presently, the newest editions have improved designs and good battery life that will allow your brother to enjoy the riding time for a longer duration.
Smart Watches
Are you willing to gift your brothers that can add a style statement to his looks? If yes, then go ahead with a smartwatch. Smart watches are trending these days because of its various features. Some smartwatches have independent cellular connectivity while some are geared towards an activity as well as fitness tracking. Indeed, it's a perfect Rakhi gift for your brother. He will be stunned to see such a wonderful gift. He will definitely admire your effort. If you have a tight budget, even then you can earn an appraisal from your brother. All you have to do is to send gifts online from an online portal.
Digital Camera
So, your sibling is fond of photography? Encourage your brother to enhance his photography skills by gifting him a digital camera. Nowadays, digital cameras are available with so many features like plenty of storage, higher resolution, and much more. So, win the heart of your brother by gifting a digital camera this Raksha Bandhan.
 Beddi Glow Alarm Clock
Encourage your brother to rise and shine with the assistance of this high-tech alarm clock that has a sunrise-simulating light, slowly increasing alarm sound and Bluetooth speaker.
Foldable Keyboard
If your brother loves to write, then the foldable keyboard will be the best gift for him. It's a rechargeable keyboard, and it is compatible with iPad, Android as well as windows phones.
The ideas mentioned above makes the perfect gift for Raksha Bandhan as well as other occasions. So, go ahead with any present and leave a long-lasting impression on your brother's heart.