Digital media has emerged as an optimal alternative for all our needs. From storing data for us in the primitive stages to automatically designing world-class wedding invitations now, Digitalization has truly simplified human life. To give your creativity a dynamic boost, various applications and software are engineered by designers across the globe. It not only alters your efforts but also provides a more efficient outcome. When you do not wish to spend a hefty fee on designers, you can simply use the invitation maker to create your own wedding invitation without putting in too much hard work.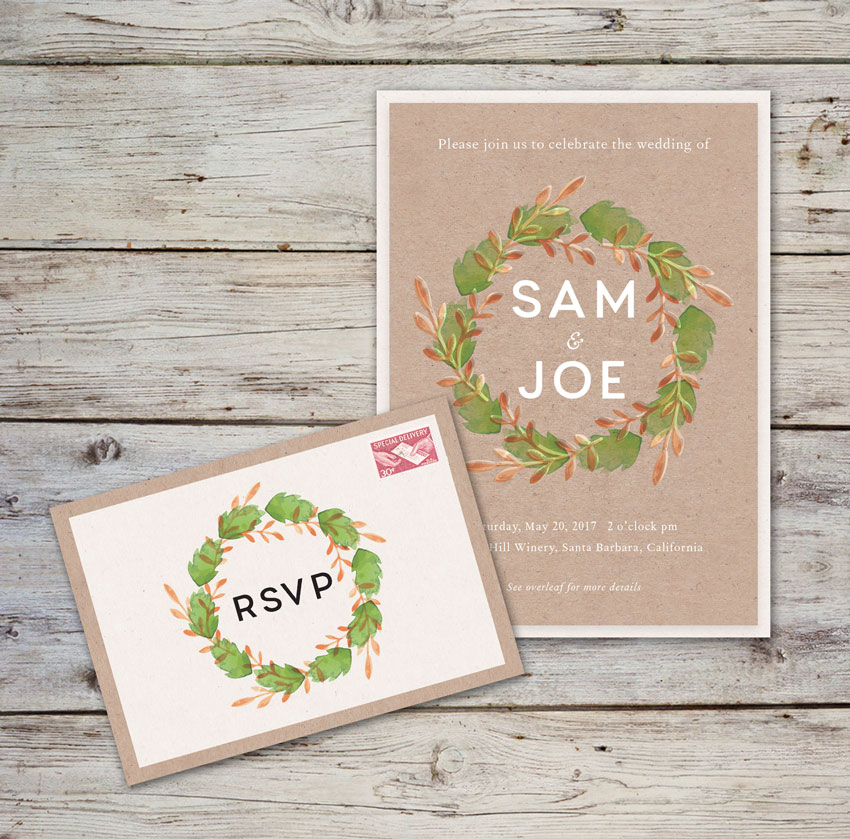 Why create your own wedding invitations?
 Weddings are one of the most important moments of our lives. It is indispensable that your wedding invitations are as special as your big day. Creating your own wedding invitation is not only an economical alternative but also gives you the opportunity to express and experiment freely. Since it is your own creation, you can browse through a million ideas and create your very own personalized invitation for your invitees. By adding a heartfelt message in your invitation you give a personal touch to it and make your guests feel valued. Although, creating a pitch-perfect wedding invitation can be a task.
Here are 6 things that you must always recheck before posting your wedding invitations:
1. Your Invitation Design and exclusivity
No wedding is ever identical, so why must invitations be? By opting to create your own wedding invitations you seize the opportunity to make it as exquisite as you like. Your wedding invitation shall resonate with the theme of your wedding. Browse through a million varieties of templates systematically categorized as per your needs and choose your pick wisely. Make sure that your invitation design is not too tacky or too dull. You can then make multiple alterations in your invitation and also add elements like graphics, video clippings, animations, transition, and music to make it even more striking and intriguing. Celebrate your love through the power of videos. Create amazing video invitations and astound your invitees. You can simply add a set of pictures or clippings onto the workspace of the application and it shall automatically stitch the files for you and create a stunning wedding video invitation. Adding background music in video invitations make it dynamically more impactful than usual invites.
2. Give details
If your invitation has vague wedding details then it is defeating its purpose. You must always mention details about the big day in bold, big letters so that no invitee is left confused about the same. The youtube movie maker is an application that helps you create movie-like wedding invitations by simply adding high-resolution images and videos.  You can also add animation and transitions in your video so as to make it more dramatic and classy.
3. Low Content Quality
Various invitation makers and applications let you add text in your invitations. You must always ensure that you limit your word count since a very wordy invitation shall be tough to comprehend. A low content quality shall make your invitation less effective and striking. You must ensure that you keep your content precise and up to the point. A lengthy text shall also undermine the design of your invitation.
4. Posting without a hygiene check
Always go through the content and design in your invitation multiple times. A hygiene check is an indispensable part of the process. Make sure that the designs and texts are well-crafted. Ensure that there is enough breathing space in your invitation, meaning it must not look over-decorated or clustered. Check for grammatical and spelling errors in every piece of text on the invitation. A minor error in the invite can disrupt the message you wish to convey.
5. Run a trial first: check compatibility
It is important that your wedding invitation is visible to all. Once your wedding invitation is rendered and ready to be shared, have a trial run before you send it out right away. This is to make sure that your invitation is compatible with all iOS and Android devices and functions well.  With the invitation maker, you can create the most extraordinary wedding invitation within minutes and astound your invitees.
6. Mode of outreach
The only thing left to do is sharing your beautiful invitation with family and friends. Since digital invitations don't need to be handed out separately from person to person, you can broadcast your invitee in your close community through various social media platforms. Instagram, Facebook, and Whatsapp are all secure and incredibly intuitive platforms that can help you send your wedding invitations in the quickest time without having to worry about its misdelivery.
With the help of various online tools and invitation, it is now easy and economical to create your own invitation with the utmost creativity, so you can celebrate your love with passion and style.