Word scramble games are a great way to have a fun and relaxing time while still challenging your brain. With just a little bit of imagination, vocabulary knowledge and word solving skills, you have the tools you need to solve anagrams and word scramble puzzles. I particularly love these types of puzzles as they are a great way to take a break from the stress of everyday life while keeping your mind active.
With 2018 coming to an end, I thought it would be a good idea to compile a list of the best anagram and word scramble games. After spending some time on Google, I found a list of the top 10 word scramble and anagram games.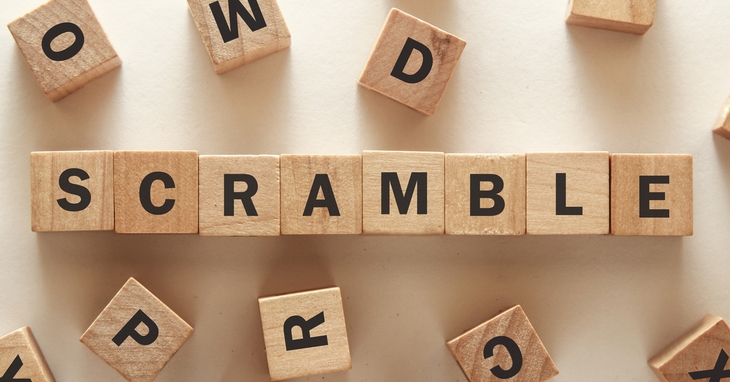 I tested some of the games on their list and reviewed my top 4 favorites. However, instead of just listing the apps, I decided to group them into two categories. My first group of games has customizable themes, so you can change the look and feel of the game exactly as you want. My second group offers in-game hints, so you can get a little bit of help when you need a nudge in the right direction.
Anagram & Word Scramble Games with Theme Selection
Playing a quick word game can truly be quite relaxing, as it helps you clear your mind from any worries by simply spending some quality time with yourself having fun. The experience can be even more enjoyable when you can select from gorgeous themes, like a beach, a sunset, the night sky, the ocean and more, to quickly escape to a paradise, even if for just a couple of minutes a day. The first group of games I selected allows you to do exactly that, as you can set customized themes and backgrounds to enhance your word solving experience.
Apps: Wordscapes, Word Breaker
My first pick is Wordscapes. I found this to be a great choice if you are new to anagram and world scrambler games. The first few levels are geared toward beginners, so you can easily get familiar with the game rules and mechanics. I particularly loved the gorgeous theme options, as you can pick from a serene desert, a relaxing beach, a peaceful forest, and other great scenery options. I would have liked to have seen a built-in dictionary option for quickly viewing the definition of words I didn't know. Although I didn't need it often, it would be nice to have the dictionary tool to easily learn new words while playing. Want dictionary support? I recommend you try my second pick, Word Breaker.
My second pick is Word Breaker. I particularly liked the variety of anagram solver game modes. Not only can you play the classic solver mode, but you can also try your hand at crosswords, and even play a fun game of hangman too. I also found the Board Solver feature to be particularly useful as it really helps for learning and developing new word solving strategies. Although I didn't have any issues, I noticed that some users reported problems when importing screenshots into the Board Solver. The developers have been attentive to any issues and they indicated that you need to make sure that the board is completely visible without any pop-up notifications hiding areas of the game. The complete set of playable tiles also needs to be on the rack for the feature to work!
Anagram & Word Scrabble Games for In-Game Hints
While playing word games can be a lot of fun, sometimes levels can get quite tricky and you might need a little bit of help solving the puzzles. The second group of apps I selected have in-game hints, so you can get a nudge in the right direction when you're stuck on a level.
Apps: Word Cookies, Word Chums
My third pick is Word Cookies. I found it to be quite fitting for the time of the year as it has a Christmas theme throughout the entire game. In fact, the word unscrambler puzzles are solved by reorganizing Christmas sugar cookies that have been freshly baked out of the oven! I also liked that you always have new puzzles to look forward to, as new content is added every day! I did find a few of the puzzle solutions to be slightly challenging as some words were uncommon. However, I was easily able to advance by using the hints, which I found to be helpful enough without giving away the entire game.
My fourth pick is Word Chums. I found this to be a great choice if you want to test your word solving skills by competing with other players online. I also liked that you earn points and level up the more you play, unlocking in-game rewards you can use to upgrade your Chum avatar. The only drawback I found is that the anagram tiles are quite small, so it is not uncommon to tap a wrong tile by mistake. However, you can easily correct your selection without affecting the gameplay, so no harm done!
Conclusion
Thanks for reading. Finally, I'd like to share the link to the list I used to find the games in case you want to check it out as well.
These are my top 4 picks for the best anagram and world solver games. My favorite is Word Chums, but I have also enjoyed playing Word Cookies lately as the Christmas theme is perfect for the time of the year. Whether you are looking for a quick escape from the stress of everyday life or want to challenge your brain with stimulating word puzzles, I'm certain you will have tons of fun with any of the games on my list. Now, pick a game and put your world solving skills to the test!