Air filters are an important part of your motorcycle. When it does its part rightly, an air filter traps dirt, particles and debris and prevents it from entering in the engine. However, if it gets clogged, then it impacts the performance of your engine and your fuel economy.
Being important performance parts, you should know how to keep it clean or replace one.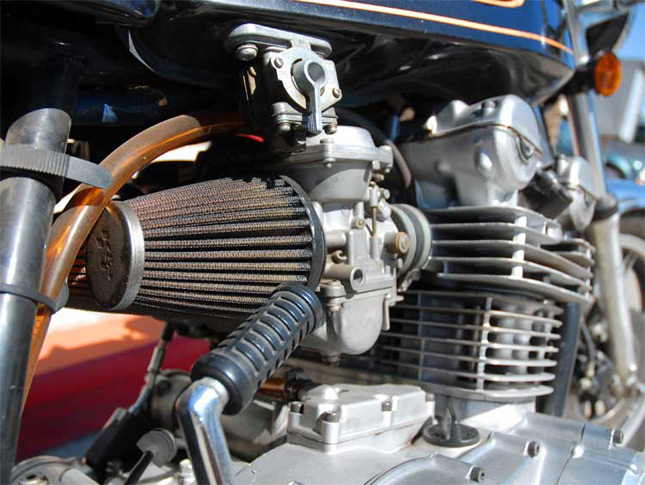 Get your bike air filter
Your motorcycle air filter is sited below the air filter cover on either side of the engine. Sometimes, you may need to remove your fuel tank if the manufacturer has sited it there. If you are unsure about the location of your air filter, then you can always go through the owner's manual. You can get review its maintenance issues to tackle when you are replacing or cleaning the filter.
Cotton or Paper?
A lot of stock air filters are covered with paper base filters. It means when they get clogged or dirty, the paper filter needs to be replaced. For a lot of bikers this change needs to be conducted one or two time every year, but one also needs to follow their maintenance timetable and to evaluate the change time period. However, if you see that your filter is dirty, then just remove it and replace it.
Some bikes are fitted with a cotton gauze air filter and these are basically installed as aftermarket motorcycle parts. You can easily clean it with the help of a sponge air filter and re-use it again one or two time.
With a cotton gauze air filter, you have the facility to use it several time. And these cotton filter may enhance the life of your bike. Lastly when you use a cotton filter, you actually send lesser number of disposable paper filters to dumping zones.
Other considerations
High flow air filters or cotton air filters are made to render higher horsepower and better acceleration to the rider. These filters also enhance the filtration procedure and are reusable. They are pre-oiled and ready to use.
When you think about cleaning the cotton filter, you need to remove it from the air box seeing that no debris slips in. Keep the top of the box covered with a towel, specifically if the filter will be away from the bike for a larger time period. Spray the needed solvent on the filter the wipe out the debris and allow the filter to completely dry for some hours or for the whole night.
Once it gets fully dried, coat the cotton gauze with filter oil and remove the towel from the air box and put the cotton filter again and seize it tightly. If you think that your bike is kept in the garage for a long time and has lost its performance, then also the problem may be same. Just change the air filter and you will it reach its optimal performance standards.
 You can get all aftermarket motorcycle parts and performance parts online at BikeBandit.com.