Most people don't give a second thought to heading off to a doctor's appointment, going to the grocery store to do some shopping or simply going out to visit with friends and family. But for many seniors and those with disabilities, those trips are difficult at best. That's because they don't or can't drive or they're faced with a lack of public transit or other forms of transportation.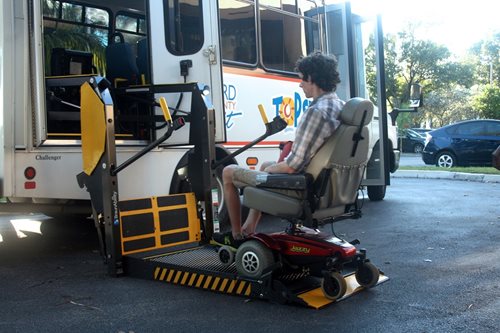 While many cities do have public transit, getting to a pickup point or getting to a destination from a fixed-route drop off point isn't feasible. Many private taxi services don't provide commercial wheelchair vans, which limits options for seniors and disabled riders. And while some ridesharing companies do have some wheelchair vans and other accessible options, they currently don't have enough vehiclesto meet the current and growing demand.
This problem not only limits access to much needed medical care and other critically important appointments, it diminishes their overall quality of life. Most seniors and those with disabilities rely on Paratransit services, but unfortunately it is limited in many areas. The good news is that many cities are making much needed changes in order to meet the growing demand for accessible transportation.
On Demand is on the Rise
One of the ways cities are accommodating seniors and disabled folks is by providing an on-demand Paratransit service. Using smartphone apps, people can book pickups using a simple click of their smartphone app or by calling a phone number. St. Louis, for example, is using a small fleet of electric cabs to provide on demand transit around the downtown area. The vans aren't yet fully ADA compliant, but can accommodate a folding wheelchair or walker.
Waco, Texas has a "Transit's Demand Response Service" that offers a door to door transportation service for customers who can't use the fixed route transit system due to a disability. The driver will assist the passengers getting on or off the van, but won't provide assistance getting in or out of a wheelchair. But for those passengers who require a personal care attendant for help getting in and out of a wheelchair, the attendants will ride for free.
Denver, Colorado is another city implementing an on-demand ride program. Partnering with a service provider, Denver will have three city shuttles, one having ADA accessibility, and will provide free rides that can be requested through a the Chariot smartphone app.
Transit Agencies Helping Meet Paratransit Demand
As more and more seniors join the need for Paratransit transportation, many transit agencies are working to meet the demand. Kansas City rolled out free fixed-route rides for veterans and Paratransit customers. They also rolled out a service called RideKC Freedom, where riders will be able to use a smartphone app to schedule on-demand rides for a fee. Wheelchair accessible vans will be available. And Boston is launching a pilot program that will enable 400 people to begin taking subsidized trips withshared ride service providers.
Milwaukee County Transit System is now providing more than 100,000 rides on its fixed-route system to passengers who require wheelchairs and other mobility devices. This has helped to eliminate the need for increased Paratransit services. They also offer free bus rides to anyone who is eligible to use Paratransit. They also have a mobility coordinator to make sure that bus stops are ADA compliant.
West Sacramento launched its Via Rideshare service, which provides rides throughout the city for one affordable, flat fare. It's an on-demand public transit system that is hailed using a smartphone app or by calling the service. Because riders will be sharing the van with other riders, the cost is only $3.50 one-way, or $1.75 for seniors.
In Gary, Indiana the city is offering complementary ADA Paratransit transportation to disabled residents who can't use fixed-route bus service. All vehicles are wheelchair accessible and feature wheelchair lifts, ramps and securement devices. Other metro areas are offering different types of programs, including volunteer driver programs, "door-through-door services" as well as personal transportation options for seniors that use a combination of paid and volunteer drivers.
As you can see, many different cities are trying new and innovative approaches to help ease the Paratransit demand with an aging population. By continuing this trend, seniors and those with disabilities will enjoy increased mobility and a better quality of life.