The processing time for the issuance of replacement resident cards, as mentioned in USCIS website spans through 4-9 months. The average processing time for the issuance of replacement resident card is around seven months. There is no stipulated way in which the processing time can be expedited.
However, the processing time can be improved drastically by providing necessary documents like evidence, documentation, filing fees in an organized manner when applying for a replacement card. It ensures that the USCIS gets all the necessary evidence and documents without having to request for evidence, which can stretch the processing time.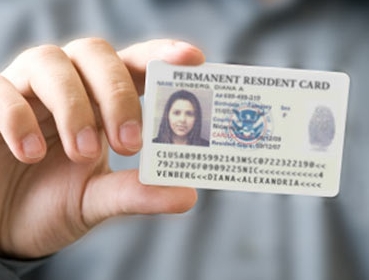 When to Replace Your Resident Card?
Permanent residents above 18 years of age need to carry their immigration status proof at all times. The law requires it, and thus, undamaged, unexpired, and a valid Green Card must be in possession of the lawful permanent residents at all times.
It ensures that law enforcement and government officials can check the immigration status of the individuals whenever needed. The need for a replace resident card arises in the following situations –
You're switching from having a commuter Green Card to now owning an actual residence in the U.S.
Switching to the newer version of the replacement resident card from the older ones (AR-103, I-151, and AR-3).
Replacement resident card never arrived by mail.
Expiry of your existing Green Card.
Changing standard replacement resident card to commuter status.
The existing Green Card is damaged, invalid, or mutilated.
The replacement resident card would expire before your 16th birthday and was issued before you turned 14.
Your personal details, such as name or other biometric/biographic details, have changed.
Changing of immigration status to lawful permanent resident.
The replacement resident card you have contains incorrect information.
What is the Process of Applying for a Replacement Resident Card?
The process of applying for a replacement resident card begins with filing Form I-90. The form can be filled and submitted online, and can also be filled manually and then sent through the mail.
You need to attach documents as evidence based on the reason you're requesting replacement resident card.
Here are some of the top reasons why you might be requesting a replacement resident card and the documents that need to be attached for the same –
You have been automatically converted to permanent resident status – Evidence of temporary residence status and identity proof
Your biographic information has been changed – A copy of the current resident card and any legal proof of the change
Your current resident card is about to expire or has expired – A copy of your expiring resident card
There is wrong data in the card – Original resident card and identity proof
You did not receive the resident card – A government-issued identity proof, copy of Notice of Action (Form I-797)
You just turned 14, and your resident card expired before you turn 16 – A copy of the resident card
Replacing outdated resident card – A copy of the resident card
You have lost, or your card has been stolen – A copy of the resident card and identity proof
You're switching to commuter status – A copy of the resident card and employment proof for the last six months
What is the Process of Renewing a Conditional Resident Card?
If you only need to replace your conditional resident card, you need to fill out Form I-90 and attach the necessary documents duly. In case, your conditional resident card expired within 90 days or less; you need to fill out Form I-751, which is the Petition to Remove Conditions on Residence.
For this, you will be required to pay a fee of $595, and it may take about 16 months.
How to Check the Status of Your Application?
When you file the petition, you will receive a receipt from the USCIS on how you can track your application status. You can go online to their website and use the ten-digit number receipt number to find information about the application.
Additionally, you can also call or email USCIS for any queries or questions that you might have. You should have your receipt number, name, birth date, and Alien Registration number handy before you call them up.
What happens if You Do not Replace Your Resident Card?
It's mandatory to carry a physical resident card at all times. If you fail to replace the resident card on time, you may be charged with a misdemeanor. You may be fined or even receive jail sentences. Thus, failing to replace your resident card will greatly decrease your chances of obtaining U.S. citizenship through naturalization.