About 12,000 firefighters were working Monday to fight fires in California, which killed at least seven people.
"I lived here all my life and I have never seen a fire that brings such destruction," said Leonard Moty, supervisor of Shasta County, where since July 23rd the main cause of these fires has been in Carr.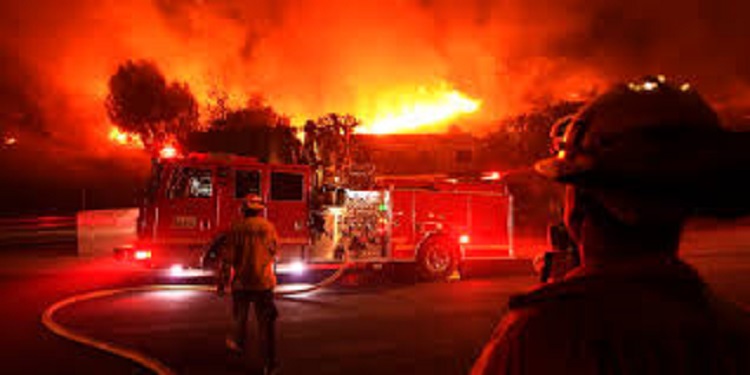 Two firefighters were killed fighting the blaze and three people – a 70-year-old woman and her two great-grandchildren aged 4 and 5 – died when their mobile home was surrounded by fire.
On Sunday, the remains of a person who had ignored the evacuation orders were found in a burned residence, according to the authorities.
According to the latest official report, Carr burned more than 38,600 hectares, destroyed 517 buildings and damaged 135. It was only 17%.
Reinforcements sent by 13 states arrived on the scene or were on the way from New Jersey, Florida or Maryland on the east coast.
For the town of Redding in this county, fire chief Bret Gouvea was reassuring. "We feel much more optimistic," he told reporters, "we are starting to regain ground instead of being on the defensive. "
But Gouvea cautioned against the vagaries of unpredictable weather.
"A dangerous heat wave will continue to bring very high temperatures and drought" earlier this week, according to the NWS (National Weather Service) weather service. "Many fires will continue to burn, especially in California, and the threat will be exacerbated by worsening conditions of drought and heat."
Some 38,000 people have been evacuated to Shasta County because of what has been described by California governor Jerry Brown as an "uncontrollable" home.
Redding Police Chief Roger Moore warned of looting. He reinforced police patrols and warned that anyone encountered in evacuated neighborhoods without a good reason to be there would be arrested. A man and a woman suspected of looting in evacuated homes have already been arrested.
President Donald Trump signed a decree on Saturday ordering the Emergency Management Agency to provide support to the Shasta authorities.
Elsewhere in California, a fire called Mendocino Complex due to its establishment of several nearby homes, has ravaged more than 9800 hectares since Friday. Its area has grown rapidly and was only circumscribed by 10% Sunday morning.
Firefighters, on the other hand, reported good news about the Ferguson fire, near Yosemite National Park, which has grown by only 800 hectares in the night to 21,700 hectares since July 13 and was limited to 30 %. A firefighter was killed and seven people were injured.
Another blaze is the Cranston Fire, which caused the evacuation of more than 7,000 people, but some of them were allowed to return home on Sunday morning. The fire of human origin destroyed 5,300 hectares and was circumscribed to 29%.
The California governor's emergency department counted 17 large-scale fires burning across California and mobilizing 12,000 firefighters.
Across the country, there were 39 major fires on Sunday with more than 97,000 hectares in smoke, according to the National Fire Coordination Center (NIFC).