NASA has broadcast a video made using satellite information that offers an estimation of the severe rainfall in the past week over India and demonstrates the spread of the consequential severe flooding in regions of Karnataka and Kerala.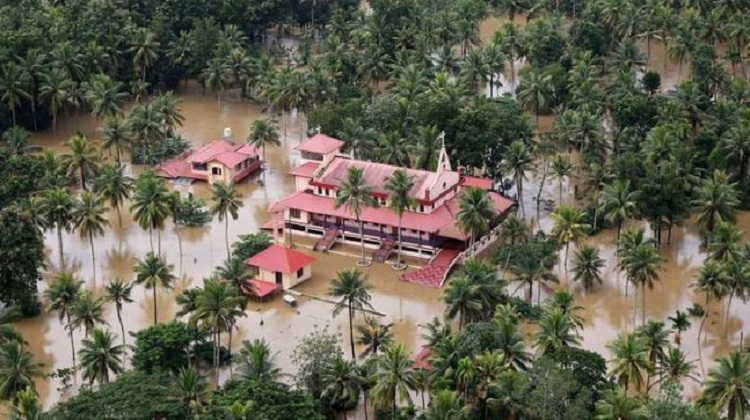 The summer monsoon is a customary characteristic in India at this time of year and it can fetch intense rains to the area. Nevertheless, periodically regions of low pressure can create within the common monsoon trough and fetch even more rain. Worst floods are been faced by Kerala in almost a century that has impelled 3.14 Lakh individuals out of their houses and left around 231 individuals dead. The Centre has announced this disaster of "severe nature."
Rainfall buildups from August 13 to 20 demonstrated 2 belts of heavy rain throughout India, as said by NASA. The first belt seemed much wider and expands across the peninsula's northern region with weekly rainfall sums spanning from above 5 inches toward the peninsula's western half to the extent of 14 inches over regions of the eastern half toward the Bay of Bengal.
The initial belt is linked to the general monsoon distribution. The second belt seemed more intense & concentrated and is closely lined up with the Western Ghats and India's southwest coast where onshore flow was boosted by a region of low pressure entrenched within the general monsoon.
The IMERG (Integrated Multi-satellitE Retrievals for GPM) is utilized to predict rainfall from a blend of passive microwave sensors, comprising infrared data and a microwave sensor. The data is produced every half an hour, thus enabling the researchers to observe rainfall nearly in real time across the globe.
Moreover, the European launch firm Arianespace fruitfully set-off a new weather satellite on August 22 dubbed Aeolus. This spaceship is the foremost satellite developed to measure the winds of the Earth on a global scale.